Dentistry From The Heart: Photos and Event Recap
Richmond, Va. – This past Saturday, October 22, River Run Dental hosted their first Dentistry from the Heart event in Richmond. The event surpassed goals, and the dental practice plans to make the free day of dental work an annual event.


86 Patients Received Free Dental Care
For its inaugural year, the practice guaranteed dental care to the first 50 people. By 6:30 a.m., there was a line of 20 people waiting at the door. River Run was able to see a total of 86 people between 8 a.m. – 4 p.m. Registration was cut off at 2PM in order to be able to accommodate everyone who was registered at that point.
The day resulted in over $21,000 of Free Dental Care provided.
"I wish we had been able to see everyone who showed up for treatment that day, but for it being our first year, I am so pleased with the services provided, the people we met, and grateful for the partners we had helping make the day a success," said Dr. Brent Rusnak, owner of River Run Dental.  
A Community Effort
Patients began lining up outside two hours prior to the event starting, and patients were asked to wait outside during they day before it was their time for dental care. River Run Dental thanks local partners for donating food to feed people who waited outside, including Dunkin' Donuts and Panera Bread.
"The support we received locally helped us see as many people as possible and kept those waiting comfortable," said Dr. Rusnak.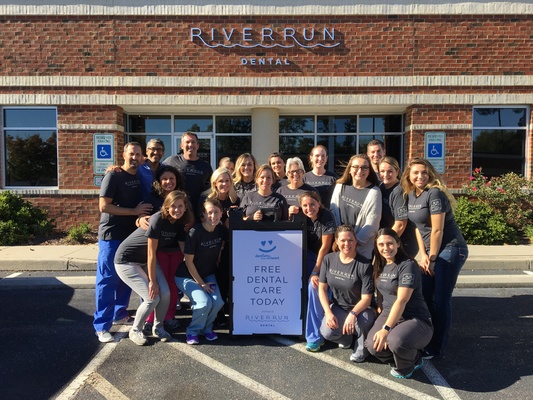 To learn more about the event, visit https://riverrundentalspa.com/river-run-dental-to-host-free-day-of-dentistry/
Dentistry From The Heart
In 2001, Dentistry From The Heart started with Dr. Vincent Monticello as a way to give back to the community and provide aid to the growing number of Americans without dental insurance. Dentistry From The Heart has grown to include over 200 annual events nationwide and around the world and has provided more than 80,000 people with an estimated $8 million in free dental care services.
For more information, contact: Leslie Blackwell, leslie@riverrundentalspa.com