A Dental Hygienists Solution for Sensitive Teeth
Have you ever felt pain or discomfort after a taking bite of ice cream or eating a bowl of hot soup? If so, you're not alone. While pain caused by hot or cold foods could be a sign of a cavity, it also could just be sensitivity.
Tooth sensitivity is exactly what it sounds like: pain or discomfort experienced in response to things such as hot or cold temperatures. It may be temporary or a chronic problem, and it can affect anything from one tooth to all of your teeth. To learn more, we asked one of our Registered Dental Hygienists to give us insight into this common issue. This is what she had to share…
Is sensitivity a common problem that you hear patients complain about?⁠
⁠Yes, absolutely! I have patients tell me almost every day that they are experiencing some level of sensitivity. Most people just live with it and don't realize there are things we can do to help minimize it. ⁠
What can be done about sensitivity?
When a patient complains of teeth sensitivity, it's important that we figure out the root cause of the problem. Sometimes sensitivity is a result of decay that needs to be addressed with more involved dental treatment, but sometimes sensitivity is just the result of gum recession or weakened enamel.  In these situations we have several options that can help alleviate sensitivity for patients. One is a simple procedure called Brush and Bond. The other is topical fluoride treatments.
WHAT IS BRUSH AND BOND?
Brush and bond is a specially formulated agent that is applied directly to the tooth or teeth where you are sensitive. We light cure it with a blue light and it gets hard, creating a physical barrier over the tooth to prevent sensitivity in the future.⁠
WHEN DO YOU USE BRUSH AND BOND?
We recommend brush and bond when you are experiencing hypersensitivity, which is sensitivity to hot, cold and/or pressure that feels like a "zing" of pain. This sensitivity is a result of gum recession, so it is most often felt right around the gum line.⁠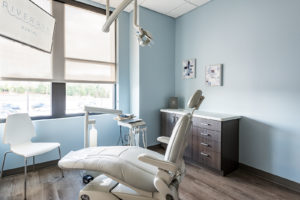 WHAT ARE THE BENEFITS AND SIDE EFFECTS OF BRUSH AND BOND?
The benefits to this treatment are that it is very non-invasive, and provides instant relief for tooth sensitivity. A side effect can be tissue blanching, which is not painful and the color will return to normal within a few hours.⁠
WHAT DO PATIENTS SAY ABOUT THEIR EXPERIENCE WITH BRUSH AND BOND TREATMENT?
Patients experience sensitivity relief that we typically see last about 6 months. Their cleanings and other dental services are enjoyable. They are able to eat and drink more normally. The treatment usually needs to be reapplied every 6-12 months.⁠
Still Have Questions?
Our award-winning dental team can identify or rule out any underlying causes of your tooth pain. Depending on the circumstances, your dentist might recommend desensitizing toothpaste, fluoride, bonding or a root canal. If you're bothered by sensitive teeth, book your next River Run appointment today.