A Dental Hygienist's Review of The Quip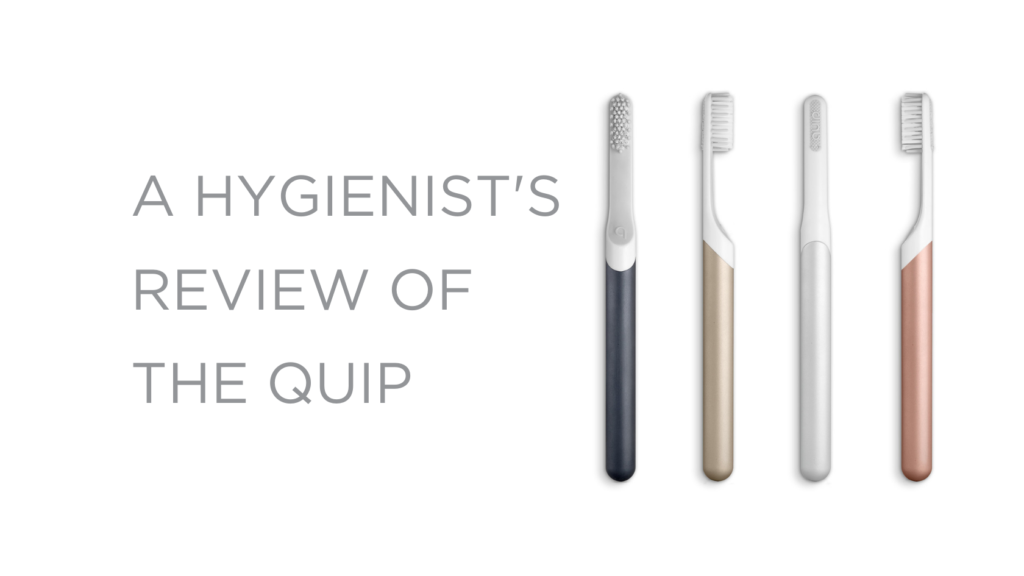 When strolling the aisles of your local store, you have more than likely stumbled upon a sleek, electric toothbrush called the Quip. Quip provides an affordable, sleek, easy-to-use electric toothbrush for consumers– starting at $25. Unlike other electric toothbrushes sold in stores, the Quip exhibits a clean, simple look, and is available in an assortment of different colors.
It's no secret that we have always been proponents of electric brushes, but we wanted to learn more about this new brush specifically. After all, it looks super cool and is offered at a great price point. To learn more, we asked one of our Registered Dental Hygienists to use this brush and give us an honest review of the Quip. This is what she had to share…
The Quip Toothbrush
Designed with one mode of vibration, The Quip has a built in timer with thirty second interval pulses to guide you throughout your mouth. "This feature encourages users to brush their entire mouth, and not focus on one spot for too long or too little," our hygienist reviewed. The user must still manually brush their teeth when using a Quip toothbrush though, because the brush head only pulses and does not oscillate, unlike other electric toothbrushes on the market. This is especially important to note.
"The handle, which is my favorite design aspect, is the most similar to that of a manual brush. It subconsciously allows you to brush with less force which allows for gentler brushing because of the symmetrical shape."

Quip's Refill Plan
One aspect of the Quip that our hygienist thought was great was the automatic refill plan. Quip offers a user-friendly brush head and battery refill plan. The Quip subscription refill plan starts users out with a toothbrush, travel cover, and batteries for your brush. The refill plan makes it effortless to stay on top of changing out your brush head every 3 months and keeping your brush fully charged. Your monthly refill subscription can also include the Quip brand travel toothpaste. An automatic refill plan is more likely to keep people on track with their brush head changes which is always beneficial in our book.    
Quip Design
The Quip brush head is a continuation of its simple, sleek design. It has a rounded, flat head with soft bristles. One thing to note about Quip brush heads, though, as pointed out by our hygienist, are the rubber "bristles" around the edges of the brush head. "I especially don't like those rubber bristles for patients who are naturally aggressive brushers." These can cause pain or irritation, and even though they look cool they may not be the most beneficial design element.
Summary
So how does the Quip stack up to other brushes?
"Overall I think Quip is better than a manual brush. Although more convenient in shape and simplicity than the Sonicare or Oral-B electric brushes, I think whether or not it does just as well of a job is up to the patient's compliance and how well of a job they do brushing. For those that have a Sonicare, you know there is nothing better than that "after going to the dentist" clean feeling you're left with." 
So there you have it! The Quip is definitely not a bad option when it comes to toothbrushes, and the fact that you can automate your brush head refills is a definite plus. However, it doesn't quite stack up to other electric toothbrush options such as the infamous Sonicare. As with many things, it seems like you get what you pay for with the Quip. It's definitely a step up from a manual brush but it does not compare to a full electric brush in terms of features or performance.