If you are looking for a dentist in Richmond, VA who offers crowns and bridges, please contact us today.  We also offer many other varieties of dental care, and hope you will join us for a relaxing dental experience soon.  Please read below to learn more about our dental crowns and bridges.
Crowns
Crowns are a type of dental restoration that fully cover the portion of a tooth which lies above the gum line. Crowns encase the entire visible aspect of the tooth and essentially become the new surface of the tooth.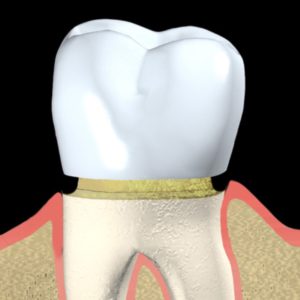 A crown may be necessary if decay has consumed enough of the tooth that there is no longer a stable tooth structure remaining.
Typically crowns require 2 visits. At the first visit the tooth will be prepared. This involves cleaning out all the decay and taking an impression for the crown. At the second visit the permanent crown will be placed. There is usually a 2-3 week time period between the two appointments.
Our dentists at Rusnak Family Dentistry in Richmond, Virginia are very experienced in crowns and can answer any questions you may have about this treatment option.
Bridges
Bridges do exactly what their name suggests – they serve as a bridge between two teeth to cover the space left by a missing tooth. Unlike dental implants, they aren't anchored into the jaw. Instead, they are anchored by fixing a prosthesis to 2 adjacent teeth.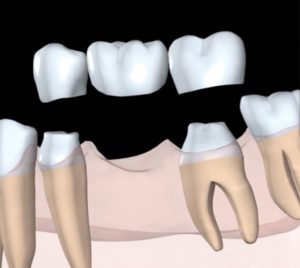 Bridges are fixed prosthetics. This means that once they are placed in your mouth you treat it just like a natural tooth and do not remove it to clean or maintain. Just like crowns, bridges are a 2 visit procedure. The teeth will be prepared at the first appointment and a temporary bridge will be placed. Several weeks later the permanent bridge will be placed.
Dr. Rusnak, Dr. Adler, and Dr. Young have extensive experience with dental bridges. We hope you will contact our dental office in Richmond, VA if you have questions about bridge treatment.